Location
Below is some information to help you arrange transport and accommodation. Transportation costs and timetables were accurate at time of writing. Please check for any changes as you plan your journey.
Contents
Accommodation
Travelling from Dublin Airport
Travelling from Dublin City
Finding the Venue & Parking
1. Accommodation
Some popular options are:
2. Travelling from Dublin Airport
From Dublin Airport or Dublin City itself there are a few options:


2.1 From the Airport: Bus (Company: Aircoach)
The 706/706X lines from the airport take you the closest to the event location. You can book in advance. It is recommended that you get off at the second stop in Athlone, the one opposite B&Q Arcadia Centre – even though it will still be a 17-minute walk from here, the other one will drop you too far from the venue! For those used to taking the Bus Éireann X20 service, please note that it has been discontinued.

2-hour comfortable journey
EUR 17.00 one-way / EUR 22.00 return
WiFi
Bookings (link)
More info at Dublin Airport
The earliest 706X bus returning to Dublin Airport from Athlone Arcadia Centre on Sunday morning is 7:30am. If this is not early enough, consider using CityLink for returning (see below). Use Dublin Airport (any terminal) as the origin – there are four stands but they are all adjacent, so choose any – and set destination to Athlone B&Q Arcadia Centre.

Aircoach Booking Screenshot
2.2 Returning to the Airport: Bus (Company: CityLink)
If you need to leave early in the morning, the CityLink bus leaves Athlone Arcadia for Dublin Airport at 2:30am, 6:30am, 9am and later. Journey time is usually 2 hours 30 minutes. Here is the December 2021 timetable: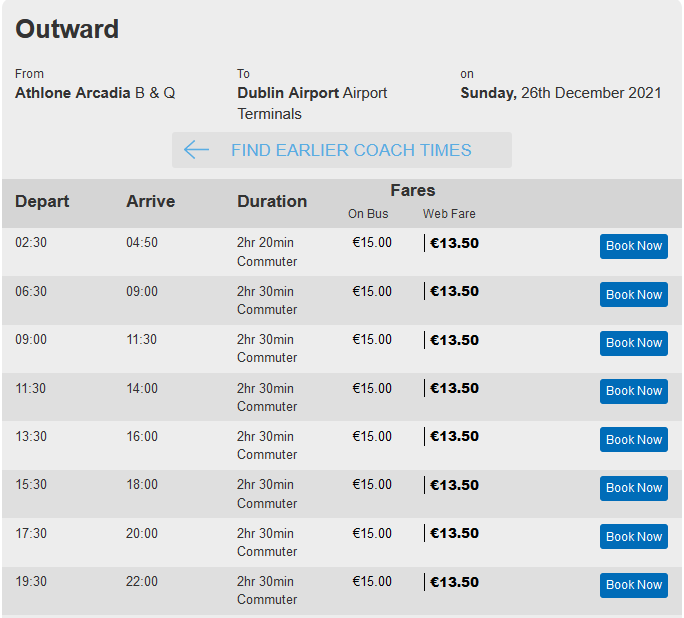 Confusingly, the 706X pickup point is the same as the drop-off point! – You must get this from the Arcadia (17 minute walk from the event or 5 minute drive). Map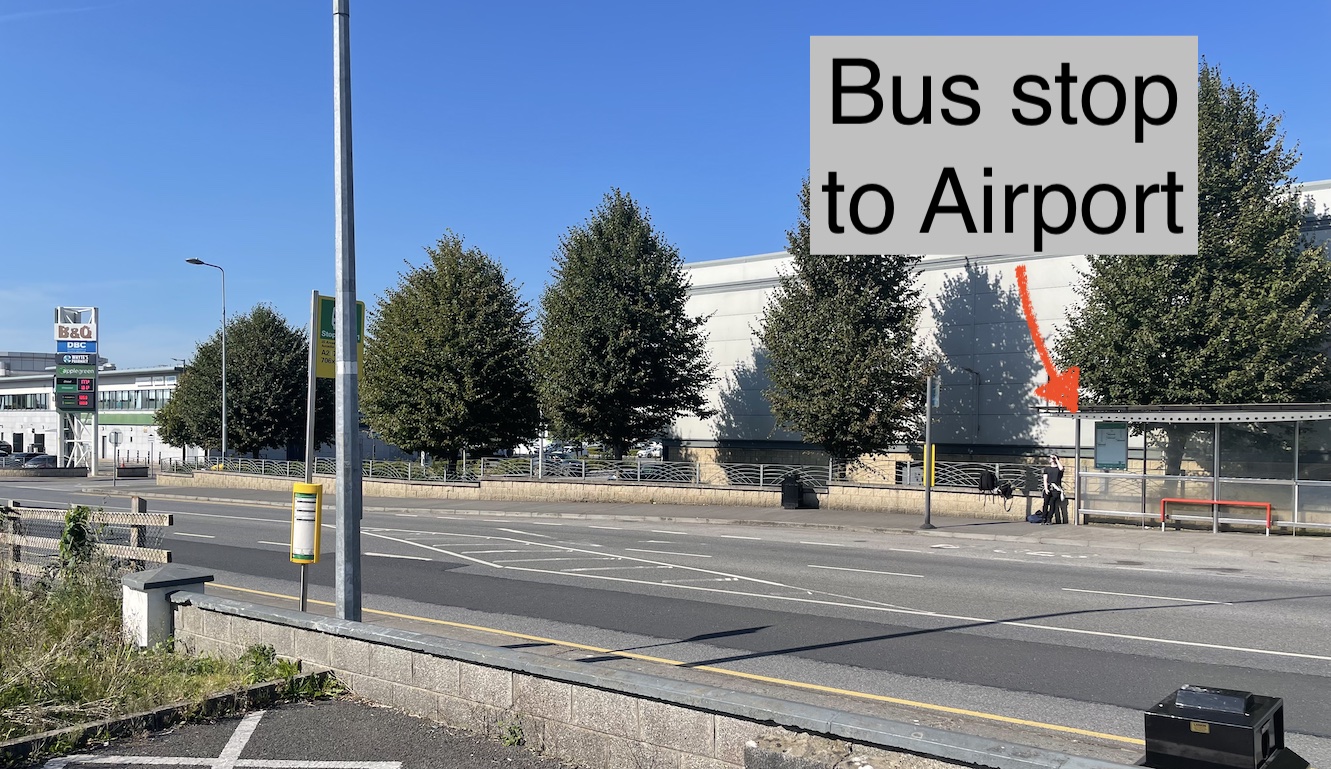 Pictured above: The return bus pickup point
2.3 Car Hire
Competitive rates have been reported using this service starting at ~EUR 20 per day.
Note: There are risks with car rental companies in Europe. They are notorious for unfounded charges. Take photos before you leave for your journey and be sure they see you taking them. Here is more important consumer information to read before hiring a rental car
3. Travelling from Dublin City
From Dublin City: Train
The train leaves from the city, not the airport. From the airport, the 748 bus goes to Heuston train and bus station but can take up to an hour in heavy traffic to reach the city. It costs EUR 10 return. Alternatively, a taxi to Heuston station could cost over EUR 30.

The train service leaves Heuston station and stops in Athlone before continuing on. The train costs EUR 30 return and takes 90 minutes. If you are coming directly from the city center rather than the airport, the train is the fastest way to arrive.
4. Venue & Parking
The venue is The Sheraton Hotel in Athlone. Map of venue
The venue is a ten minute walk from Athlone station where the bus will leave you. Taxis are available. You can also phone the reception on +353906451000



Parking

The best option is Athlone Towncentre carpark, directly beside the venue. The rate is EUR 3.00 for every 24 hours. Make sure you choose the Long Term parking area on Level B to avail of this rate. When leaving, you must get your ticket validated in their office on Level A. Parking is available on a first-come first-serve basis and availability is not guaranteed by the venue.